Plein Air Down Under
I joined the 3-day plein air painting festival and put my art skills to the test!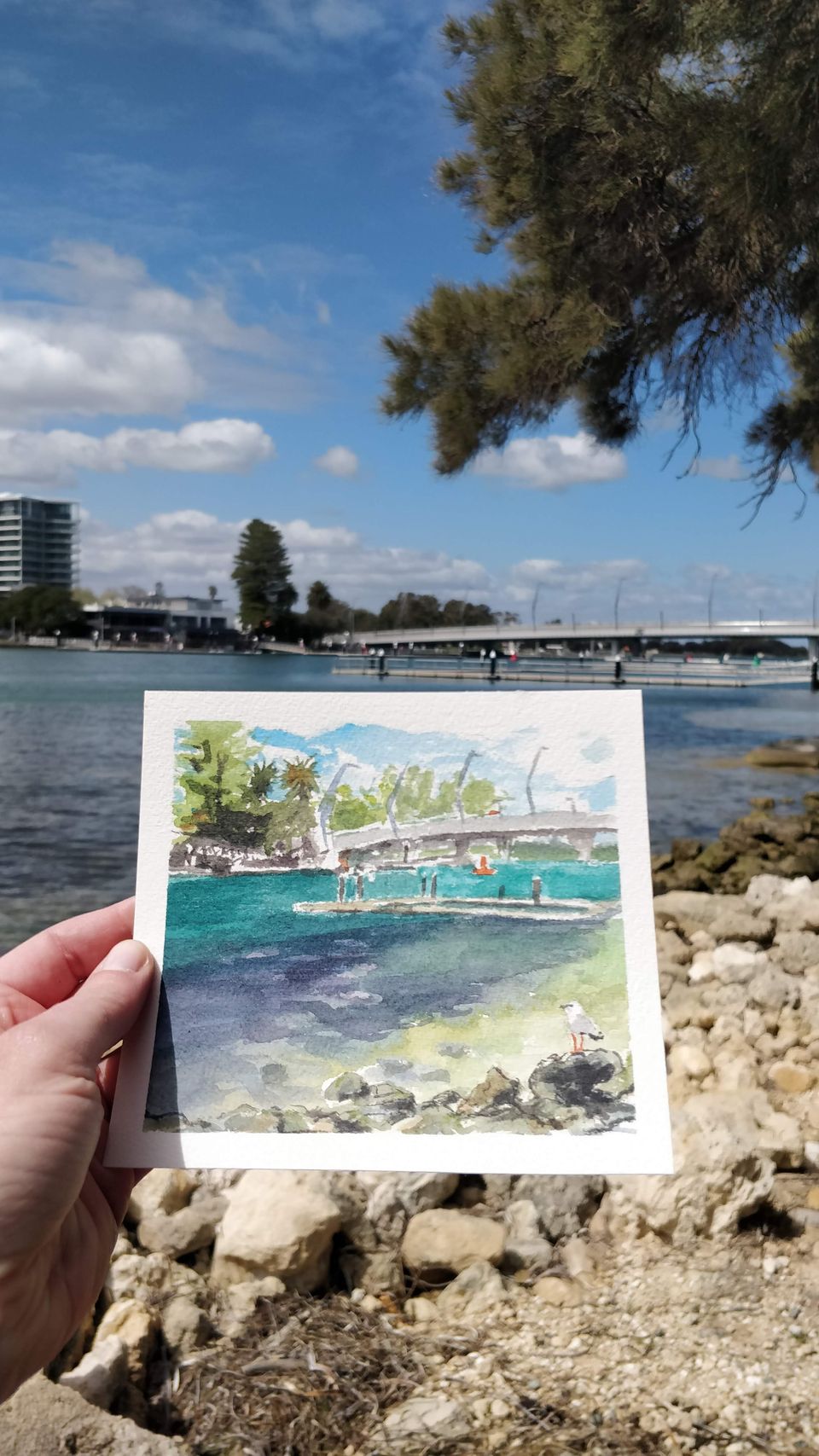 Back in April I did a month of plein air painting and thoroughly enjoyed visiting and capturing my surroundings on postcards. It turns out there's a whole festival in September celebrating plein air painting, right here in Mandurah where I'm living! Hundreds of artists participate each year, and so I decided to join them.
---
At the end of September the local plein air group (another discovery for me) hosted the 4th Plein Air Down Under Festival in Mandurah, and I was very excited to join in the 3-day event. Read on to find out how each day went and if my artworks sold.
Plein Air Festival
There were pre-event workshops, however, I didn't register for them, only the main event. The small registration fee allowed me to participate as an artist, but there was also the option of just doing the Quick Draw on the third day or joining in without submitting art to the Mandurah Performing Arts Centre (MPAC) gallery for judging and prizes.
Each day there were chosen locations for the artists to paint within, alongside marquees with information, art supplies, activities for children and adults and in the evenings the day's paintings were submitted to MPAC for showing and featured artists gave demonstrations.
I think this was a great learning opportunity for someone new to sharing artwork publicly. As a complete novice at this kind of event, I had some confusion with how payments worked (where, how, what to do with sold artworks etc), but otherwise, it ran smoothly. Unfortunately, Tiffanie Mang, the main international guest artist, was unwell during the festival and unable to do her demonstration. Despite her absence, it was still great to meet other fantastic artists and learn from the numerous other demonstrations.
Saturday 24th September
I was originally going to arrive after the Perth Nature Journal club finished and only have half a day. However, I'd cancelled it due to forecast rain, (that never eventuated 🤦🏼‍♀️) so I was able to enjoy the sun on the Mandurah foreshore instead.
Despite the blue skies, there was a stiff breeze that kept most of the artists shivering and sometimes clouds floated slowly by, so the lighting did change a fair bit. I sat with King's Carnival to my back and did some warm-up sketches then painted the view across the water with the new bridge towards Mandurah centre.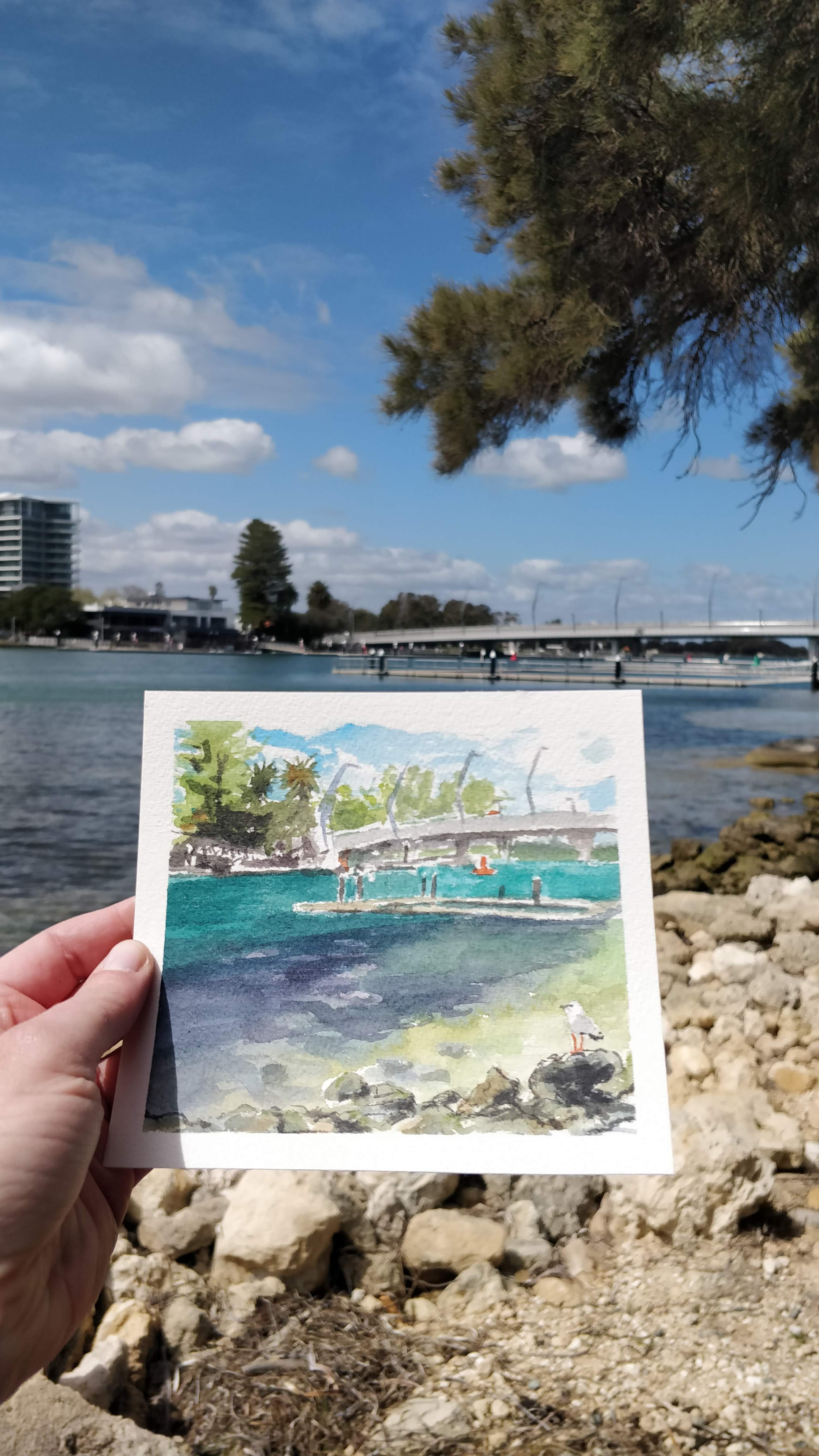 The seagull was a fortunate addition at the right time - I hadn't started adding colour yet when it landed on the rocks in front of me. I was able to include it and kept it for the submission work too. I was very pleased with the water and composition but would like to leave more of the paper white and have a transparent, loose effect.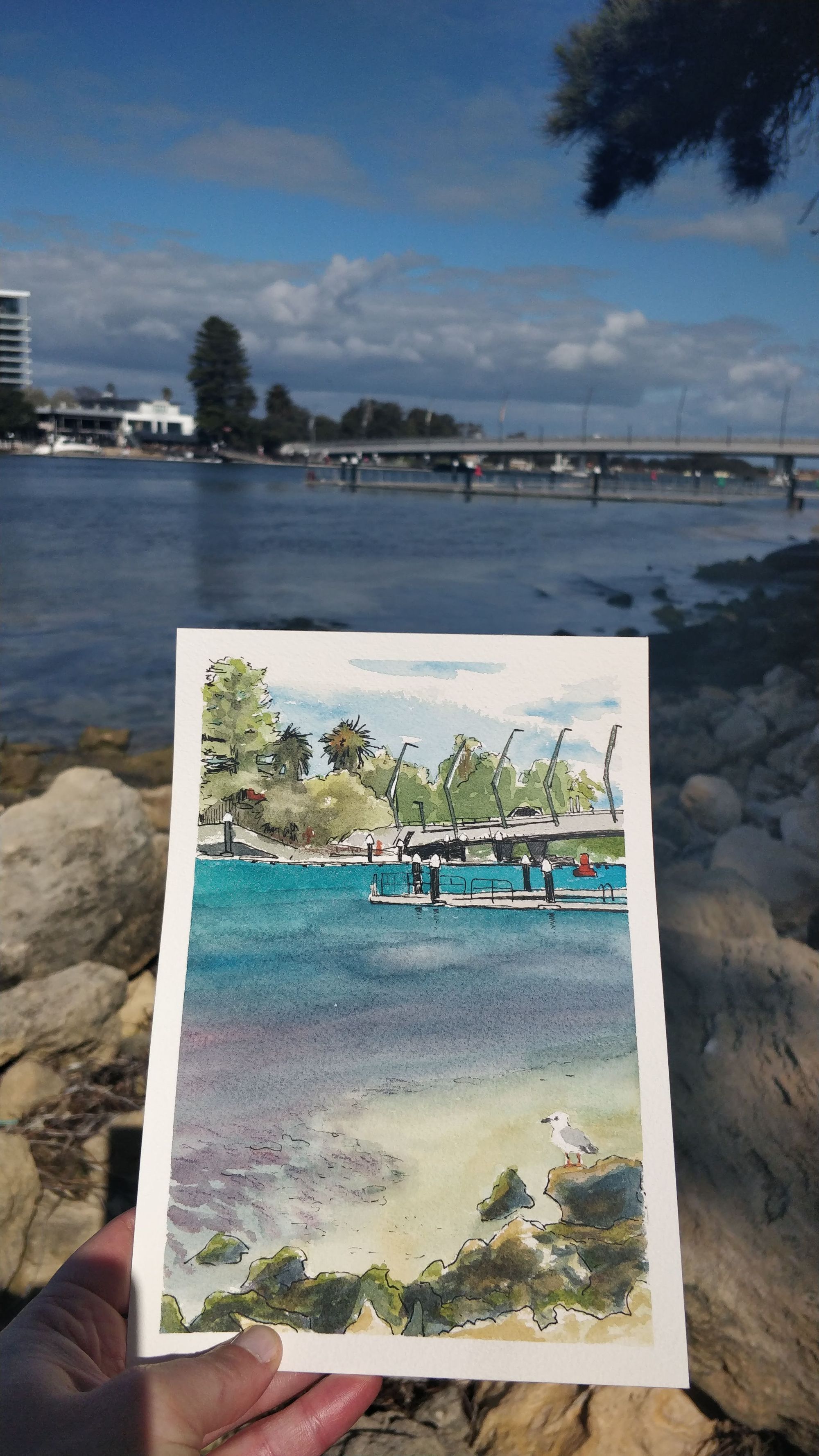 To submit the artwork for judging at the Mandurah Performing Arts Centre they had to be framed so I rushed off to Kmart and bought some. Afterwards we waited in the foyer where you could buy drinks and fresh paella before Leon Holmes did his demonstration in oil.
That evening I was quite tired, so didn't attempt any nocturne painting. I also felt dehydrated despite drinking lots of water and was surprised to discover I was a bit sunburnt on my hands and had chapped lips, touched by the weather!
Sunday 25th September
The second day was in Pinjarra, a small town inland from Mandurah. There was a light drizzle throughout the day, despite none being forecast. I watched Andy Dolphin give a watercolour demonstration of a street scene with the bridge. I was very impressed, especially considering he'd only just recently gotten into watercolour after mostly focusing on oils.
For my own pieces I decided to first focus on some bottlebrush trees lining a driveway to the Edenvale Heritage Complex. The local parrots ("28's as they are nicknamed after their call) had been eating them and left quite a mess on the grass.
I used Derwent Watercolour Pencils and struggled despite having a plan (I probably shouldn't have blocked all the colour in first but completed in sections instead). Despite this, I do want to invest more time in working with watercolour pencils. I tend to like using them for final details on top of paint. Trying them for the whole piece is new, and maybe on hot-pressed paper might give me the effect I'm after.
After a pre-ordered lunch from the local cafe, I moved to the river. The sun from the previous day must have been affecting me because I decided to capture moving water with reflections which is probably beyond my ability! At the start, I had some keen fellow artists ask about my process which was helpful for me to approach each step clearly as I explained it verbally. By the end I felt like I'd overworked it but ultimately decided to still make it the submitted piece for Day 2.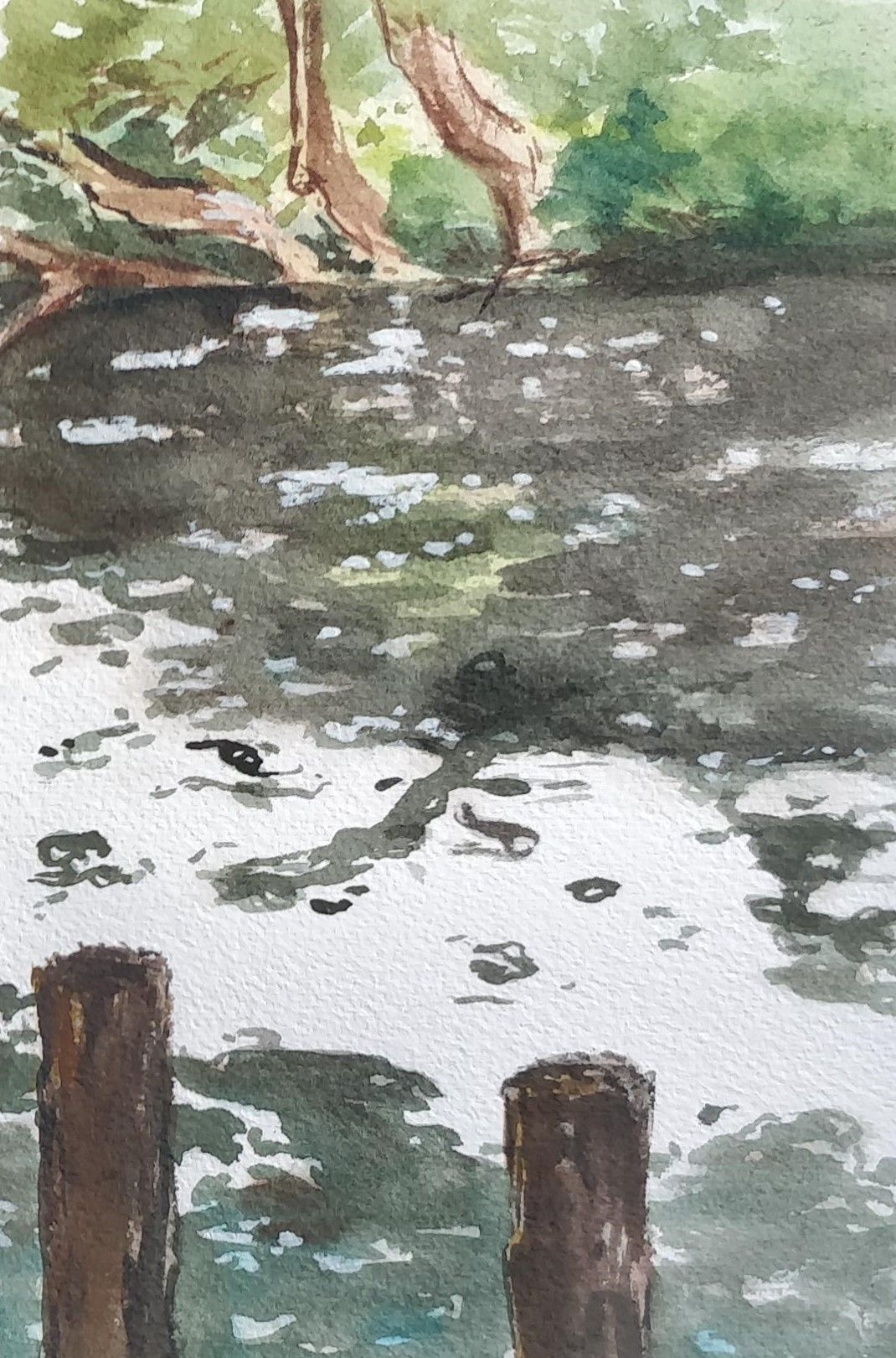 Monday 26th September
For the final day of the festival, a 2 hour Quick Draw event was held outside the Mandurah Performing Arts Centre. There were some wearable art models however I chose to paint the view back towards King's Carnival as a reflection of the first day.
It was a stressful start. I only arrived just in time (and 30 min later than planned) because I had to turn back home to pick up my artist badge (or risk missing out on lunch 🥪)! Once I sat down and got into the flow of drawing and enjoying the beautiful day the stress evaporated. I was pleased with the final outcome and the passers-by were supportive with their comments too.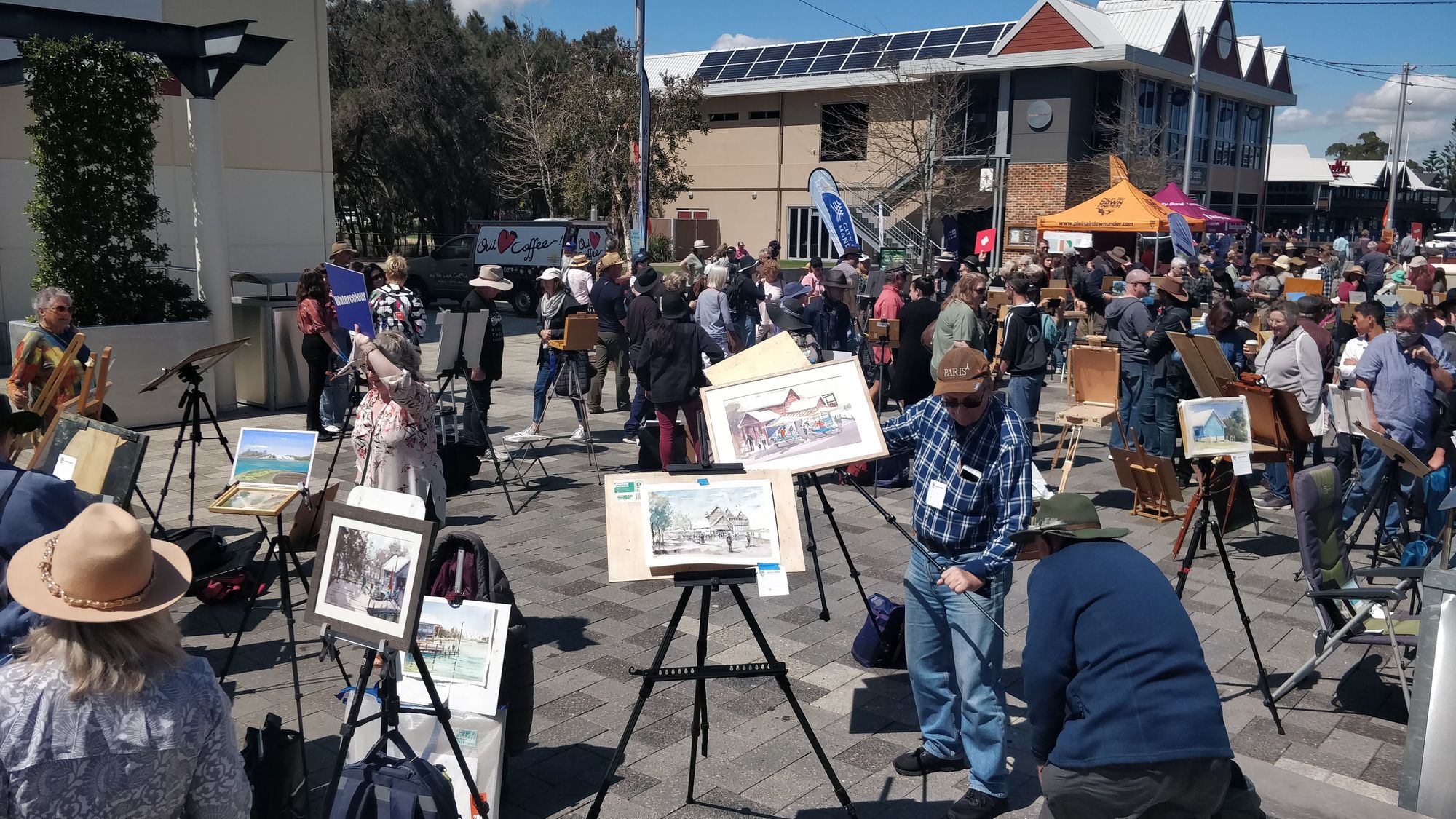 Then the 2 hours were up and we had to put brushes down and set up easels (or chair in my case) to display our work. The bustle of everyone finding the right place to set up, admirers strolling past and seagulls in the air created an exciting atmosphere as we waited for the judges. I was ecstatic to sell my piece to a young art-lover, but in my excitement forgot to take a photo!
After lunch the judges awarded prizes and presentations were made. My piece from Pinjarra was also sold - (see below). I had such elation seeing a 🔴 on the frame!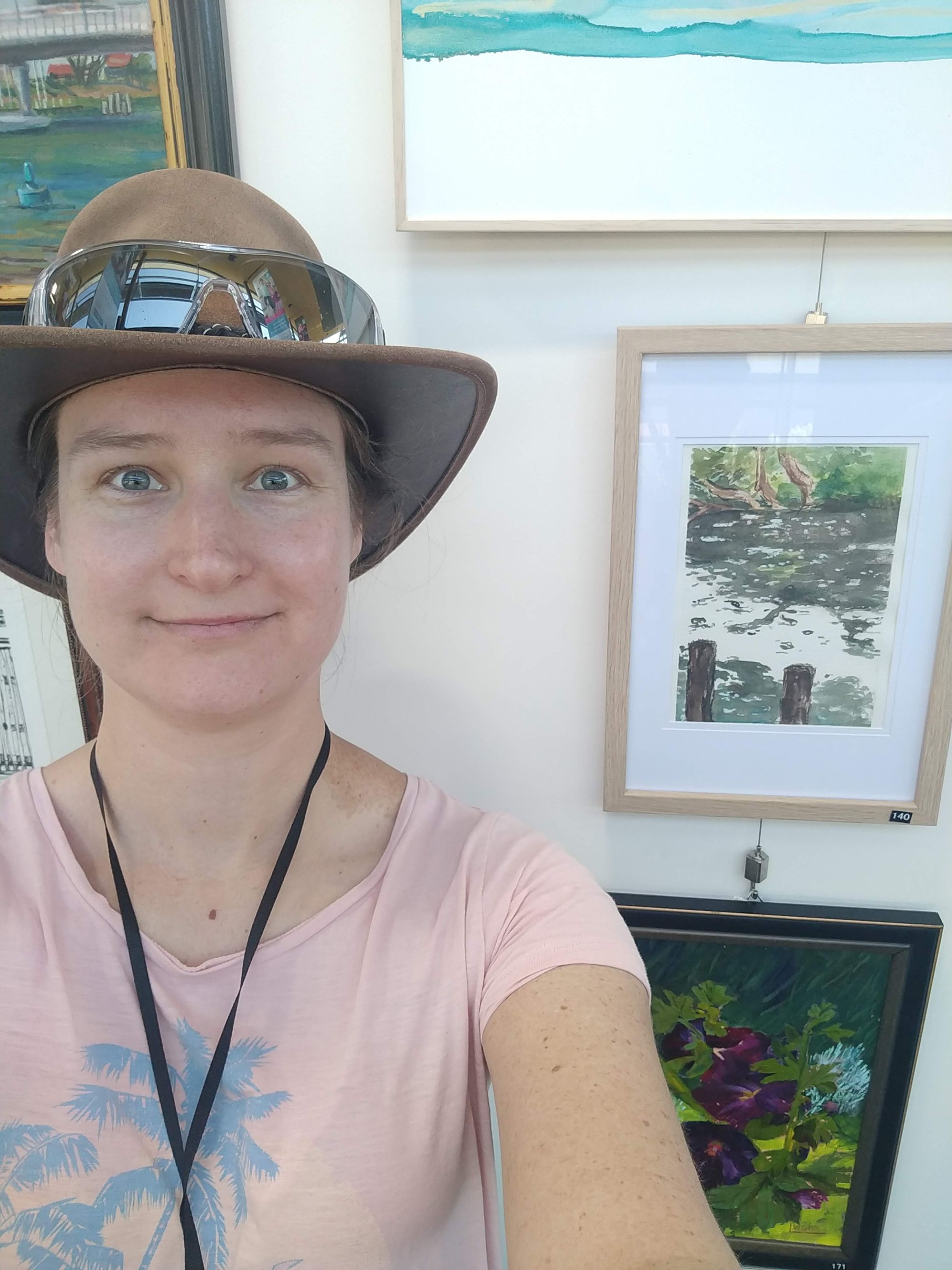 Artworks for sale
If you are interested in buying one of the remaining artworks they are available through my Ko-fi shop: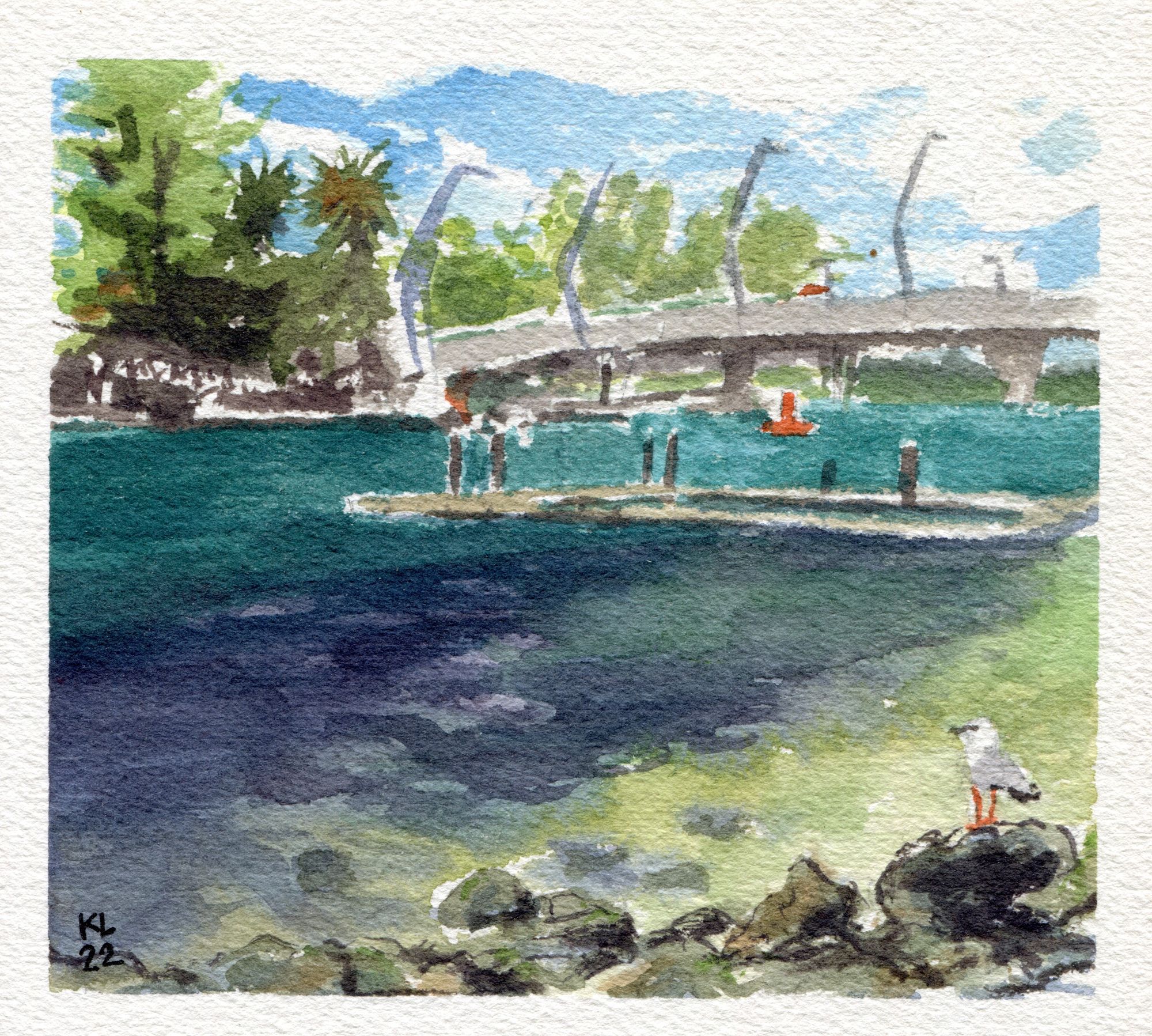 "View across to the Mandurah Bridge" - PADU Day 1 (Warmup)
Buy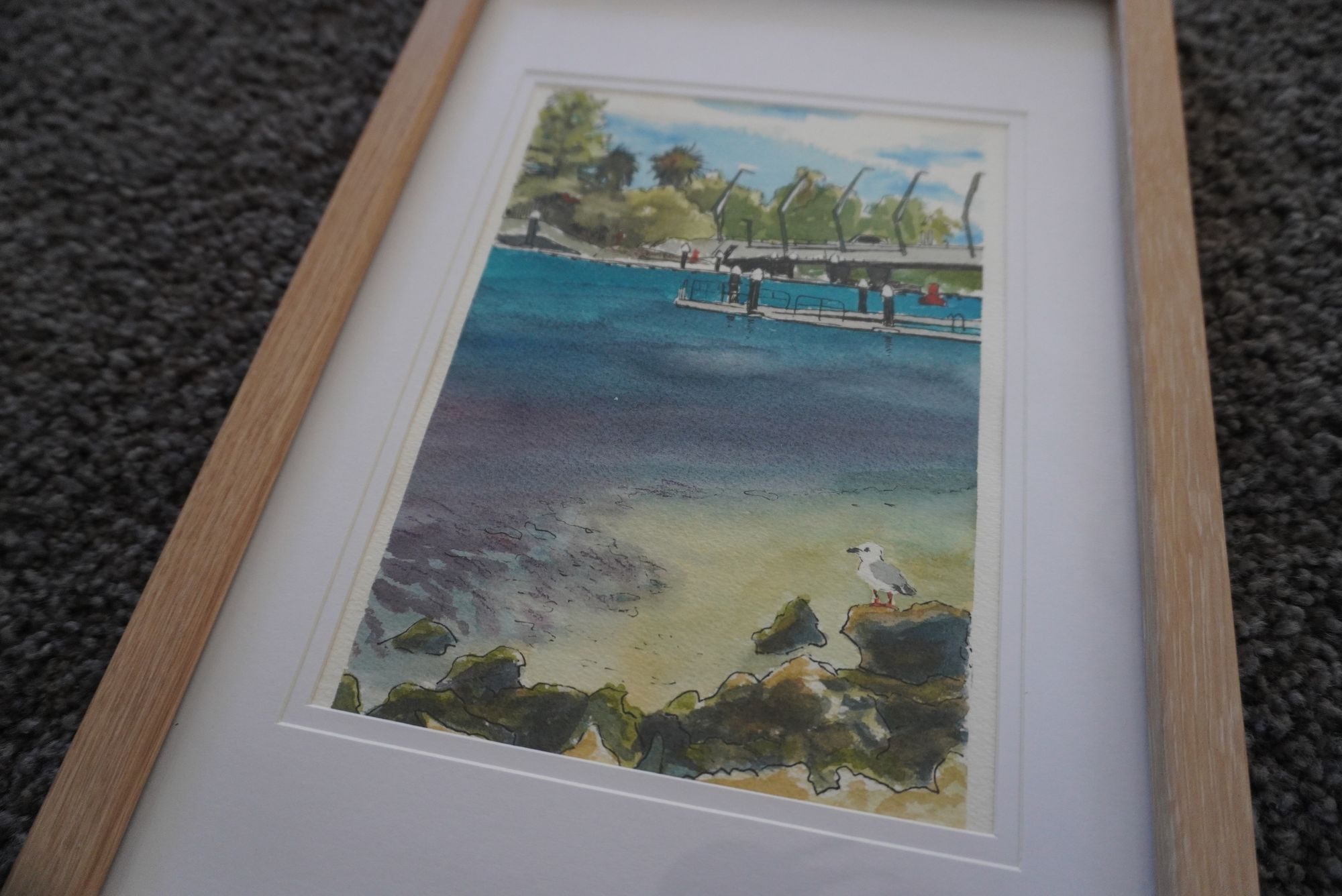 "View across the water" - PADU Day 1 (Framed)
Buy
"28's visited" - PADU Day 2 (Pinjarra)
Buy