November Meetup | Perth NJ Club
Visit the Mandurah wetlands for a day trip at Creery Wetlands Nature Reserve. There are plenty of birds to spot, walk trails, viewing platforms, information signs and toilets at the cafe.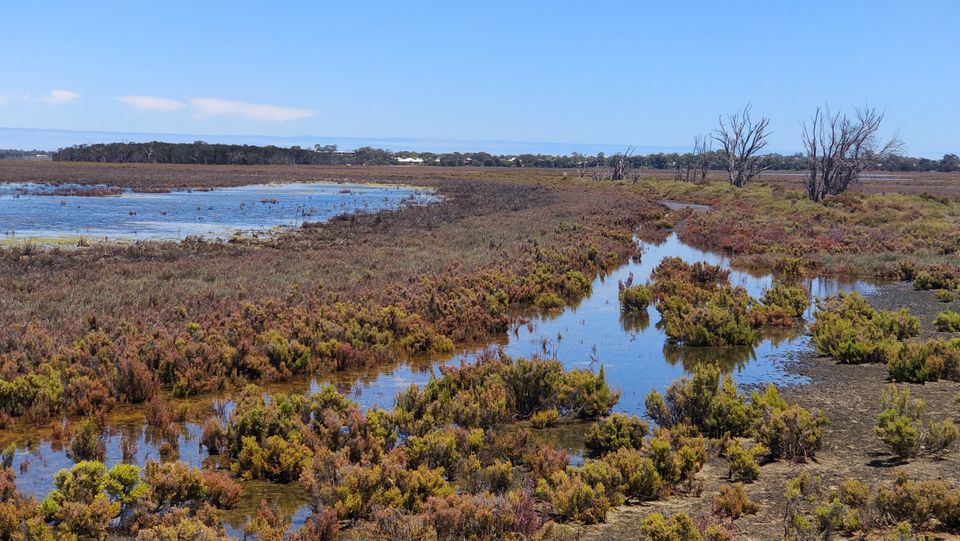 Thanks everyone who came, it was a lovely day out!
We had a lovely "cool" day for November - sunny with a light breeze. Enough to keep most flying insects away while we nature journaled. At the start, a small egret by the park pond adjacent to the wetlands captured our attention and we warmed up with some blind contour drawings in the shade.
Following the warm-up exercises, we walked through some casuarina sheoaks and spied splendid fairywrens. We continued to the end of the jetty overlooking the wetlands and viewed some shorebirds through the binoculars, including the white-headed stilt. Once we were back under the shade of the sheoaks we practised doing landscapitos and using watercolours.
---
Visit the Mandurah wetlands for a day trip! Bring your binoculars if you have them to spot the birds at Creery Wetlands Nature Reserve on the north-eastern side of the Peel Inlet. There are walk trails, viewing platforms and information signs. You can have brunch, lunch or an ice cream at the nearby Mariners Cove Café, which also has toilets.
All skill levels are welcome. Children must be supervised at all times. Please register below if you plan to attend.
Date: Saturday 26th November, 2022
Time: 10:00 - 12:00 PM
Location: Creery Wetlands Nature Reserve, Dudley Park. Meet at Mariners Cove Cafe on Darwin Terrace. More info: http://www.creerywetlands.info/flyer-creery-small.pdf
What to bring: A journal and your favourite mark-making tools. Maybe a snack and water bottle and remember to slip-slop-slap-wrap if the sun's out or an umbrella and raincoat if there's a chance of rain.
Cost: This is a pay-what-you-feel event. The suggested donation is $10/individual, $20/family, but it is up to you. Thank you for your support!