Try nature journaling challenge
Here's a beginner's nature journaling challenge to practice on a more regular basis. There's a 31 Ideas Prompt List to download (and checklist if you like to print it out and track progress).
Do you want to start or grow your nature journaling practice? Here's a beginner's challenge to practice nature journaling on a more regular basis.
It's a new year and naturally a time to reflect and make changes, perhaps even set down some new year resolutions. Maybe you want to spend more time outside, learn about your local environment or just get back into drawing - whatever the reason, this challenge will help you get started with (or back into) nature journaling.
Challenges are great for pushing yourself, building a new habit and trying something new. You can learn a lot from doing them and amaze yourself with the results, but be careful not to push beyond your capabilities.
How does it work?
For each of the 31 prompts complete a page in your nature journal. These are beginner friendly and designed to be done every day for a month (such as January) but do what works for you - maybe every weekend, which will keep you going for half the year! You can take 5 minutes or over an hour, whatever you have time for.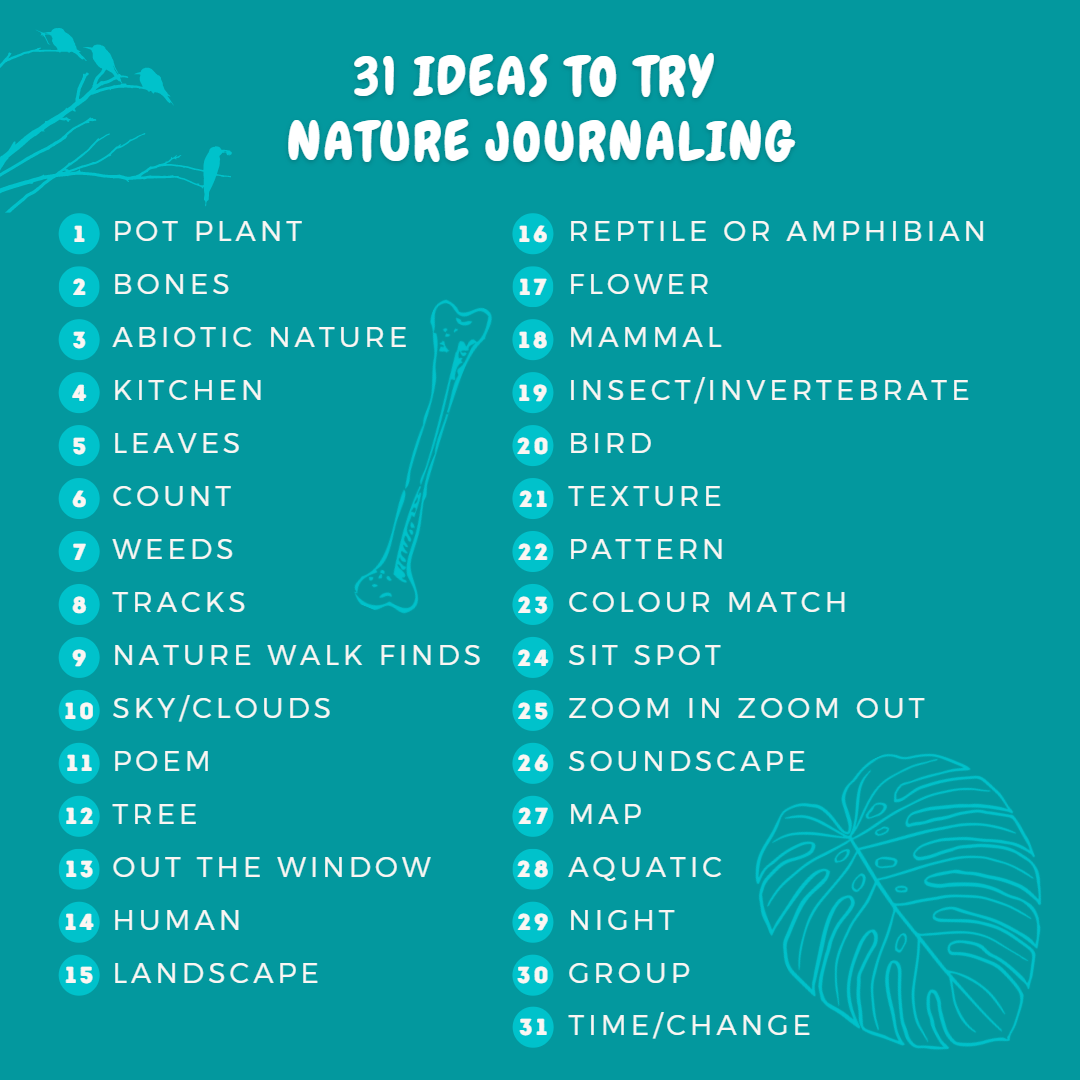 Downloadable prompt checklist
Steps
1. Set a goal
It always helps to set a goal, so before you do anything else take a moment to consider why you want to join this challenge. This will be your guiding light for if you feel like you're losing motivation - coming back to your reason can be all you need to keep going. For example my goal with nature journaling when I started was to learn more about my natural environment. During Inktober my goal was to go outside for a walk and draw from life.
Be realistic - if you can only nature journal twice a week then set that as a goal. You can always do more, but falling short of your goal is very demotivating so I would advise to keep it realistic.
2. Prepare for success
Next we need to set ourselves up for success, which requires some preparation. Gather all the materials you will want to use and keep them in a handy place - the easier these are to access the fewer roadblocks will get in the way of our nature journaling. See the free ebook download for a recommended list of materials. Also plan when you will do the activity - first thing before breakfast? After work? Make sure this time is put aside for you (e.g. block out in calendar). As you complete each prompt check it off the list (this always gives me so much satisfaction and is a great boost to keep going).
3. Do some nature journaling
Follow the prompts and keep going - even if you miss a day or two. Remind yourself of the reason you started. Some days will be like magic, other days you might not be happy with your page or feel very unmotivated. This happens to everyone, and only you know if you can push through (sometimes this can turn the day around by achieving something) or if trying again another time is the best solution.
4. Reflect and share
When you finally reach your goal you should celebrate! Look back through all your pages, see your progress, find your favourites to try again. Reflect on what could have been done better and note these down for next time. Sharing your success is also important to recognise your achievement, whether with a friend, online or even me!
Tips
You can do the prompts in order, or not - these are a guide to help with decision paralysis, not a strict set of rules.
Prepare in advance if you feel this will set you up for success. For example finding objects to study on rainy days or taking photos on walks.
If you miss a day or want to combine multiple prompts on one day that's fine! Whatever works for you.
Check the quick guide to nature journaling article, ebook and video to get started, or
Watch my real-time demonstration of the first prompt (pot plant), or
Watch my YouTube channel for more video tips such as what to do when you're stuck or don't know.
Sharing
Sharing your success is an important part of the challenge to recognise your progress and achievements. You can share with a friend, online or even me! Tag me on Instagram with @kims.art.adventures or you can post to the Nature Journaling Facebook groups!
Share with #trynaturejournaling
on Instagram or Facebook